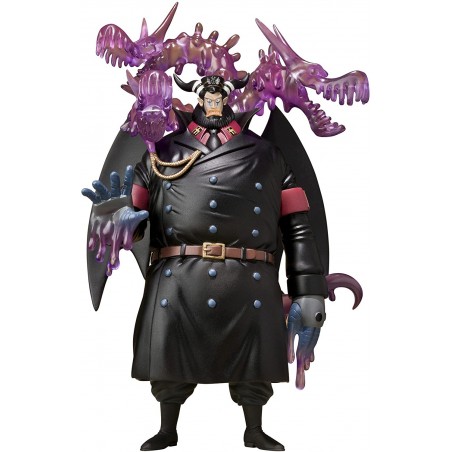  
ONE PIECE Magellan Figuarts Zero BANDAI
ONE PIECE Magellan Figuarts Zero BANDAI
Magellan was the Assistant Warden of Impel Down 20 years ago, then he was promoted to the rank of warden of the underwater prison.
He left this position after the Marineford war. He is the main antagonist of the Impel Down Arc.
He was later demoted after failing in his mission to arrest Monkey D. Luffy and for not being able to prevent over 200 prisoners from escaping from Impel Down. The new director of Impel Down is now Hannyabal. We learn that after the ellipse Sadi becomes in love with him.
Before the ellipse
Magellan is a huge man, he is about three times the size of a normal human. His face looks like a mandrill's with sharp teeth and a thick beard. His fingers look like those of the Blugori. He wears bat wings (a kind of decoration attesting to his membership in the prison) and horns on his head. He can remove the latter to use them as a weapon. Underneath these "horns", he has black hair and a ponytail.
While all the guards wear white uniforms, Magellan wears a black uniform with a red shirt underneath. His uniform has more buttons than the uniforms of his subordinates, as the size of his jacket justifies it. On the right shoulder of his uniform is a rope. He also wears the standard hat of Impel Down employees.
After the ellipse
Magellan has not changed except that he has iron plates on his left wing and left horn, as well as scars on the left side of his face.
16 other products in the same category: