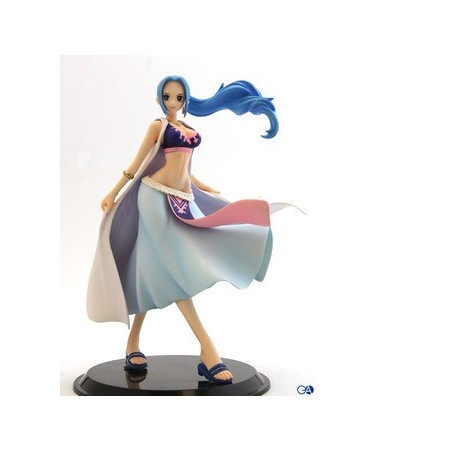  
ONE PIECE Nefertari Vivi DX Girls Snap Collection BANPRESTO
ONE PIECE Nefertari Vivi DX Girls Snap Collection BANPRESTO Vol. 2
Nefertari Vivi is the daughter of Nefertari Cobra and Nefertari Titi. She is the princess of the kingdom of Alabasta. She is a former member of Baroque Works, known as "Miss Wednesday" who infiltrated the organization, along with Igaram, to gather information about it.
She was an unofficial member of the Straw Hat Crew during most of the Baroque Works Saga, but left when the crew defeated Crocodile and left Alabasta.
Appearance
Nefertari has long blue hair, mostly tied back in a ponytail. She is also very thin, having slender legs and arms and a fairly large chest.
vivi  tends to wear clothes that are less revealing or charming than the women in The Straw Hat Crew. Like them, she is seen wearing heels, including white boots, sandals and blue wedges.