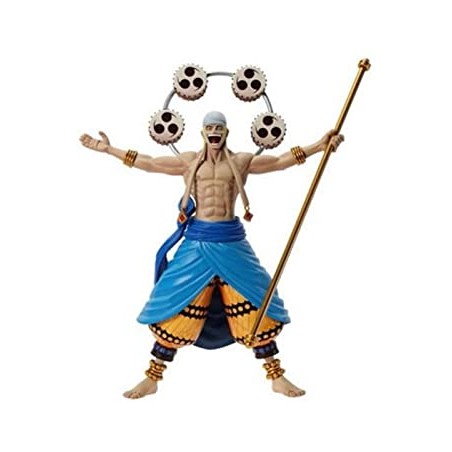  
ONE PIECE Super Effect God Enel BANPRESTO VOL.2

 Neuf scellé with its box
ONE PIECE Super Effect God Enel BANPRESTO VOL.2
Enel nicknamed God Enel is the main antagonist of the Skypiea Arc.  He is the former "God" of Skypiea. After his defeat by Luffy, he went to the Moon during Ener's Mini-Adventures where he met the Spaceys.
Appearance
Enel is a tall and muscular man, measuring 2m66.[3] His hair is covered by a simple white scarf, which hides half-short blond hair. He has long earlobes with earrings.
He wears orange baggy pants with a black pattern on the legs, and around his waist a light blue veil held by a darker belt.
He wears gold bracelets on his arms and legs. Ener also has gold earrings and 2 gold rings on his 2 big toes. He is always seen barefoot. He is always holding his golden stick, Nonosama Bo.
His nose has horizontal stripes like Robin's. On his back, he has put 4 drums (the black signs are identical to part of the symbol on Sentomaru's outfit) linked together on a ring instead of the standard Bilcan and Skypien wings. He says he tore them off himself. His drums release 50 million volts each when touched. When all 4 are touched, Ener takes his most powerful form and glows blue.
Using his Demon Fruit powers, Ener can transform into a representation of the god, Raijin.
Translated with www.DeepL.com/Translator (free version)
14 other products in the same category: