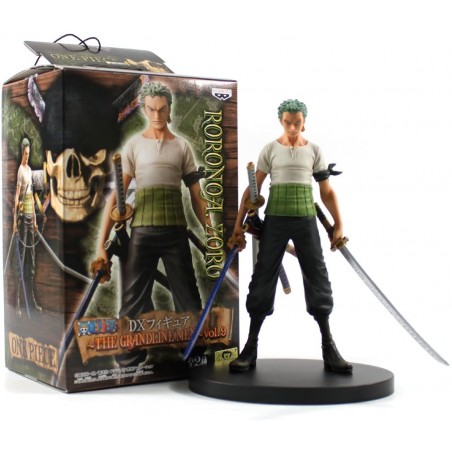  
ONE PIECE Roronoa Zoro Dx Figurine THE GRANDLINE MEN BANPRESTO
ONE PIECE Roronoa Zoro Dx Figurine THE GRANDLINE MAN Banpresto
Roronoa Zoro the Pirate Hunter is a pirate, a former pirate hunter and one of the protagonists of One Piece.
He was the first member to join the Straw Hat Crew and is its first and main swordsman. His ambition is to become the best swordsman in the world and he has shown an iron will in order to achieve it. He is a master swordsman who can use several fighting styles, the particularity of which lies in the number of swords. His fighting abilities are such that he sometimes gives the impression to people outside the crew that he is the real Captain.
Zoro is part of the Eleven Supernovas with his Symbol 120,000,000 bonus that he obtained before the ellipse, so he is one of the two people in the group to be Supernova without being a crew captain. After the ellipse, following the events of Dressrosa, he has a 320,000,000 Symbol bonus, which makes him the fourth largest bonus of the crew.
Translated with www.DeepL.com/Translator (free version)
1 other product in the same category: