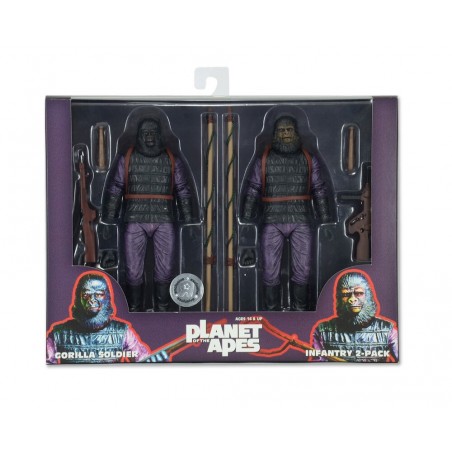  
PLANET OF THE APES Gorilla Soldier Infantry 2 NECA
PLANET OF THE APES Gorilla Soldier Infantry 2 NECA
Planet of the Apes Soldier Classic Series Set of 2 gorillas exclusive to Toys R Us. If you're looking to expand your ape collection with these exclusive figures, you'll want to buy this.
This double pack comes with many accessories including:
- 2 removable backpacks, with soft strap.
- 2 batons.
- 2 trap posts, with the great detail that the rope is real, it is real and its trap rope action works to hunt humans.
- 1 rifle with a bayonet and is,
- 1 machine gun
- 2 interchangeable hands, to attach them to the appropriate accessories.
Each figure of the infantry gorillas soldiers measures about 18 cm. Large, like the rest of the collection (SERIES 1 and 2), they also have multiple points of articulation in their limbs, even the head allows the movement.
This pair of militant gorillas comes in a window box with a deco very similar to the single boxed Gorilla Soldier. It shows off the figures very well and it is totally collector friendly, which is a good thing because there's a fair amount of accessories to keep track of. While these soldiers did appear in the original Planet of the Apes, it wasn't until Beneath the Planet of the Apes that we got to see them mobilized en masse. Those scenes are still my favorite thing about that film.
16 other products in the same category: