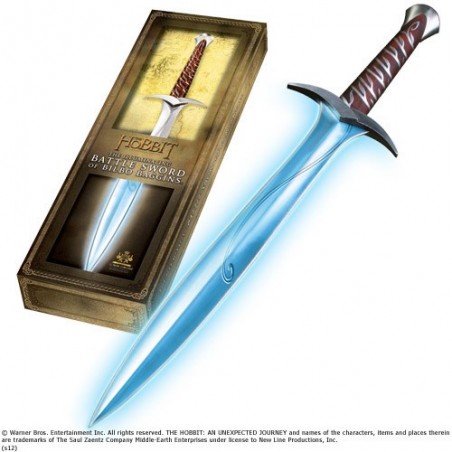  
THE HOBBIT Sting The Illuminating Sword Of Bilbo Baggins NOBLE COLLECTION
HOBBIT Sting The Illuminating Sword Of Bilbo Baggins NOBLE COLLECTION
The Hobbit is an American-New Zealand fantasy film trilogy co-written, produced and directed by Peter Jackson, adapted from the novel The Hobbit by British author J. R. R. Tolkien. It consists of An Unexpected Journey , The Desolation of Smaug and The Battle of the Five Armies .
These three films are the adaptation of the homonymous novel by J. R. R. Tolkien published in 1937 and the events that take place in parallel to this story and published in the appendices of The Lord of the Rings. This project is a continuation of the three-film adaptation of The Lord of the Rings, also directed by Jackson.
Filming for the films began on March 21, 2011 after numerous setbacks1. The Hobbit: An Unexpected Journey, the first of the films was released in theaters in France on December 12, 2012, followed by The Hobbit: The Desolation of Smaug released on December 11, 2013. Finally, The Hobbit: The Battle of the Five Armies was released on December 10, 20142. The switch from two to three films was decided during filming.
Almost the entire team from the original trilogy is involved in the films, including co-writers Fran Walsh and Philippa Boyens, illustrators John Howe and Alan Lee, cinematographer Andrew Lesnie, composer Howard Shore, and part of the cast including Ian McKellen (Gandalf), Andy Serkis (Gollum), Hugo Weaving (Elrond), and Ian Holm (Elder Bilbo).
Some characters such as Galadriel (Cate Blanchett), Saruman (Christopher Lee) and Frodo (Elijah Wood) appear in the films, although their characters do not appear in the novel. The main roles are played by Martin Freeman (Bilbo Baggins), Ian McKellen (Gandalf), Richard Armitage (Thorin) and Benedict Cumberbatch (Smaug).
Bilbo's light and sound sword
Full size authentic replica, the blade glows blue when activated
The sword has a motion sensor, a simple gesture triggers the sound effects and illuminates the blade. A silence mode is available.
The handle is made of cast iron, the spiral of leaves that covers it is silver plated, the blade is made of translucent PVC.
Requires 4 AAA batteries
Batteries not included
Measures approximately 68 cm
Delivered in a collector's box with the effigy of the movie ''The Hobbit: An Unexpected Journey
For 12 years and more
Data sheet
Scale

Quarter Scale 1/4 - 20" inch (up to 50cm)

Product Type

Accessoire

Matter

Metal/diecast
PVC
1 other product in the same category: