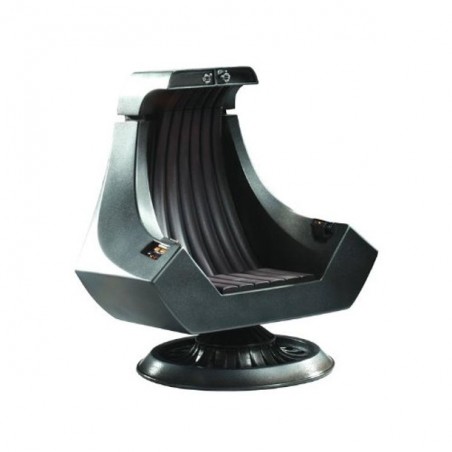  
STAR WARS Imperial Throne 1/6 Scale Environment SIDESHOW COLLECTIBLES
STAR WARS Imperial Throne 1/6 Scale Environment SIDESHOW COLLECTIBLES
The 1:6 scale Imperial Throne environment captures every detail of the seat from which Emperor Palpatine secretly wields the power of the dark side and deceives the citizens of the Republic. Made of high quality polystone and capable of rotating from side to side, each piece is individually painted and finished, each with its own unique quality and detail that is the hallmark of a Sideshow Collectibles product. The 1:6 Environment Imperial Throne is a stunning addition to any collection, and the perfect complement to your 12-inch Star Wars figure collection and the 12-inch Emperor Palpatine figure (available separately).
Sideshow Collectibles' line of 1:6 scale figures is getting more aggressive than ever. And instead of just including great 1:6 scale figures in the line, Sideshow has branched out to also include impressively sized accessories for collectors.
The first 1:6 scale figure environment we received was the Jabba throne in 2007. It was certainly a powerful display piece and was always needed if you purchased the 1:6 scale figure of Jabba the Hutt himself. Not everything can be this large, but Sideshow has taken a chance on including seats more recently. The exclusive 1:6 scale Grand Admiral Thrawn (Imperial Fleet Commander) came with a large command chair and fans immediately clamored for Emperor Palpatine's Imperial throne chair.
Sideshow thankfully listened and made a beautiful chair to complement the upcoming 1:6 scale figure. Unfortunately, the Imperial throne was shipped separately and well before the 1:6 scale figure was released. So collectors will have an empty chair until Emperor Palpatine is released. But the good news is that the Imperial Throne has enough merit to be worth enjoying on its own. It is exquisitely designed and makes us want to see the Emperor Palpatine (Sith Master) figure even more. In the end, both figures came out with a bang.
The Imperial throne measures 10 inches tall, 9.5 inches deep and 7 inches wide. Obviously designed in perfect proportions for a 1:6 scale figure, the Imperial Throne is essentially an exact replica of the prop scene in Star Wars Episode VI: Return of the Jedi.
The Imperial Throne is one piece, unlike Grand Admiral Thrawn's chair, and rotates smoothly at its pivot point. All the curves and textures are present as they should be, and the color, from what we can see, matches well with the chair in the movie. Not too heavy, the three-kilogram imperial throne has some mass to it, but it's not impossible to balance in the hands.
We would have preferred the chair not to be so hollow, but Sideshow gave it more weight than Grand Admiral Thrawn's command chair. It almost feels like the Imperial throne is an extension of Emperor Palpatine's character. It is analogous to Luke Skywalker without a lightsaber or Chewbacca without his crossbow. The Imperial Throne is essential for an Episode VI version of Emperor Palpatine and we are thrilled that Sideshow decided to create this environment to add more meaning (and freshness) to the 1:6 scale Emperor Palpatine (Sith Master) figure! We are amazed at how skilled Sideshow's designers are at developing amazing Star Wars collectibles.
12 other products in the same category: