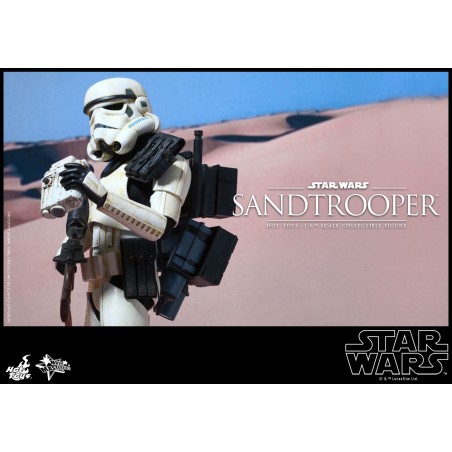  
STAR WARS IV Sandtrooper 1/6 MMS295 HOT TOYS
STAR WARS IV Sandtrooper 1/6 MMS295 HOT TOYS 
At Star Wars Celebration last month, the Hot Toys 1/6th scale Sandtrooper Collectible Figure was shown for the first time worldwide! Many Star Wars fans were excited to see this trooper making his appearance and were in awe of the great details on this Imperial soldier! Today we are very happy to officially present this 1/6th scale Sandtrooper Collectible Figure from Star Wars: Episode IV A New Hope!
The highly-accurate Sandtrooper collectible figure is specially crafted based on the image of the Squad Leader on Tatooine. The specialized trooper features a meticulously crafted Sandtrooper armor and helmet with signature weathering effects, a highly detailed survival backpack, 3 types of blasters, a Patrol Droid as seen in the Special Edition of the film, and a specially designed desert-themed figure stand.
Expand your Hot Toys Imperial army today with this amazing Sandtrooper!
The 1/6th scale Sandtrooper Collectible Figure specially features:
– Authentic and detailed likeness of Sandtrooper in Star Wars: Episode IV A New Hope
– Body with over 30 points of articulations
– Approximately 30 cm tall
– Seven (7) pieces of interchangeable gloved palms including:
– One (1) pair of fists
– One (1) pair of relaxed palms
– One (1) pair of palms for holding weapons
– One (1) open left palm
Costume:
– One (1) Sandtrooper armor with weathering effects
– One (1) orange pauldron
– One (1) black under-suit
– One (1) white belt
– One (1) pair of white boots
Weapons:
– One (1) light repeating blaster
– One (1) heavy blaster
– One (1) blaster rifle
Accessories:
– One (1) survival backpack
– One (1) pair of binoculars with weathering effects
– One (1) Patrol Droid with stand
– Three (3) pouches
– Specially designed desert-themed figure stand with Sandtrooper nameplate and movie logo
Artists:
– Figure Painted by Lok Ho
– Figure Art Directed by JC. Hong
12 other products in the same category: