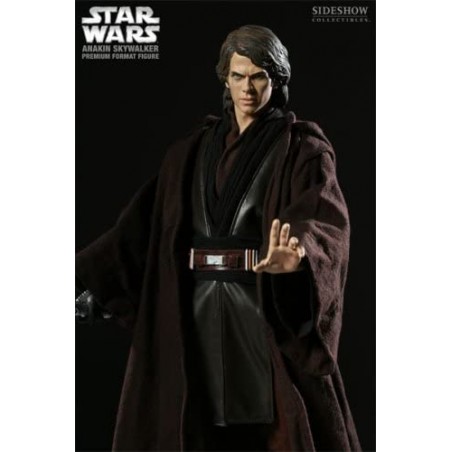  
STAR WARS Anakin Skywalker PF Exclu 1/4 Premium Format SIDESHOW
STAR WARS Anakin Skywalker PF Exclu 1/4 Premium Format SIDESHOW
The Anakin Skywalker Premium Format figure from star wars  is a superb museum-quality piece in 1:4 scale. 
The figure's body and base are molded from high quality heavy polystone, all finished and painted by hand, and dressed in a skillfully scaled reproduction of the costume.
The figure features a bright blue electronic lightsaber effect, and each base is individually hand-numbered.Sure to be the first Anakin collection, this figure is a worthy addition to any Wars Collection star.
Anakin Skywalker was a legendary Force-sensitive human male who was a Jedi Knight of the Galactic Republic and the prophesied Chosen One of the Jedi Order, destined to bring balance to the Force.
Also known as "Ani" during his childhood, Skywalker earned the moniker "Hero With No Fear" from his accomplishments in the Clone Wars.
His alter ego, Darth Vader, the Dark Lord of the Sith, was created when Skywalker turned to the dark side of the Force, pledging his allegiance to the Sith Lord Darth Sidious at the end of the Republic Era.
12 other products in the same category: