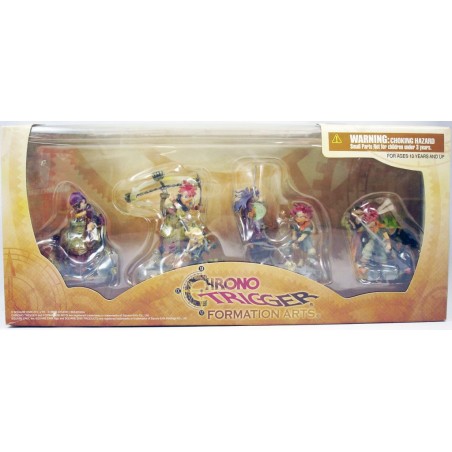  
CHRONO TRIGGER Coffret Figurines Formation Arts SQUARE ENIX
 Neuf scellé with its box
CHRONO TRIGGER Coffret Figurines Formation Arts SQUARE ENIX
Square-Enix Imported from Japan! One of Square-Enix's most beloved games is Chrono Trigger, the time-travel role-playing game for the Super Nintendo. 
This spring, some of the memorable characters from that game come to life as part of Square-Enix's Formation Arts line of figures and range in height from 2 3/4 'to 3 1/2'.
 The Chrono Trigger Formation Arts set contains figures of Crono, Ayla, Frog, Magus and Lucca, bringing these memorable characters out of the 16-bit world and into your collection. 
Chrono Trigger is a role-playing video game, developed and published by Square for the Super Nintendo on March 11, 1995 in Japan and on August 11, 1995 in North America. The game is displayed in two dimensions, and is turn-based in a world map in top view.
Chrono Trigger 's seven playable characters (with two of them being optional) come from different eras in the game world's history. Chrono Trigger begins in Present with Crono, Marle, and Lucca. 
Crono is characterized as a fearless young man with an interest in the art of wielding katanas. Marle is a sheltered girl living within the Castle, daring but reckless, who on one occasion slips out of the castle and attends the Millennial Fair, flouting the decorum of her royal lineage. Lucca is a friend of Crono's and a mechanical genius who wields a gun; her home is filled with laboratory equipment and machinery.
16 other products in the same category: