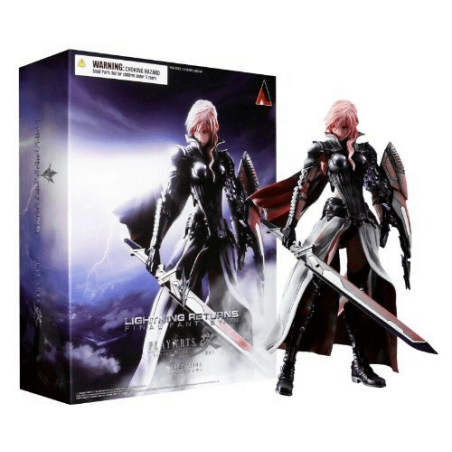  
FINAL FANTASY Lightning Returns Play Arts Kai SQUARE ENIX
 Neuf scellé with its box
FINAL FANTASY Lightning Returns Play Arts Kai SQUARE ENIX
A figure of 23 cm height, manufactured by Square Enix. It presents the character of Lightning (Claire Farron), exactly modelled on Final Fantasy XIII-2. The figure is fully equipped, it has elements known from the game.
A very good reproduction of details and an advanced mobile skeleton give really realistic effects of the product and the possibility of an interesting appearance of the characters.
Lightning is the main character of the game Final Fantasy XIII. A lonely and mysterious young woman, she is a former member of the Civil Guard of Cocoon. 
She gave up her real name: Claire Farron (Lightning Farron in the Japanese version).
In Final Fantasy XIII, she seeks the fal'Cie of Pulse Anima in order to destroy it to free her sister Serah from her Task. 
In Final Fantasy XIII-2, Lightning becomes a warrior in the service of the goddess Etro, in order to protect her from Caius Ballad. 
In Lightning Returns: Final Fantasy XIII, Lightning was elected by Bhunivelze to take on the role of Liberator. She is given the task of saving people's souls to turn back the fateful date of the end of the world.
2 other products in the same category: