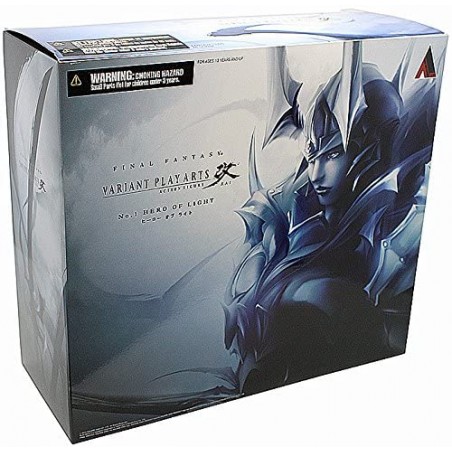  
FINAL FANTASY Variant Play Arts Kai Hero of Light SQUARE ENIX
 Neuf scellé with its box
FINAL FANTASY Variant Play Arts Kai Hero of Light SQUARE ENIX
From Square Enix! The heroes of Final Fantasy, reimagined with Play Arts Kai craftsmanship! 
The Variant Play Arts Kai series was created when Square Enix's designers, sculptors, and engineers came together to create a line of action figures that showcased SQE's pursuit of a unique style that stays true to the spirit of a character's original design with a sharp and edgy twist all their own. 
And now Square Enix collaborating with one of the biggest names in video games: Final Fantasy! 
The very first installment of the Final Fantasy series began when the four Heroes of Light appeared in the land of Coneria. 
One of them - "The Warrior with Blue Armor" - joins the ranks of Play Arts Kai action figures! 
He has been recreated in gorgeous detail with brilliant paint work and the curvature and form based on the actual process of making a real suit of armor. 
Equipped with his trusty sword and shield, and special weapon effect accessory, this figure is sure to breathe new life into the classic Hero of Light! 
Figure includes accessory parts such as cloth cape with internal wires for posing, sword, sword effect pieces, effect piece display stand, shield, exchangeable hands and figure display stand.
2 other products in the same category: