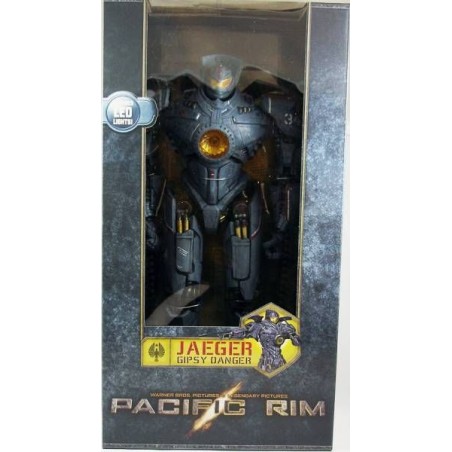  
PACIFIC RIM Jaeger Gipsy Danger Ultra Deluxe NECA
PACIFIC RIM Jaeger Gipsy Danger Ultra Deluxe NECA
The main hero Jaeger gets the deluxe 18-inch treatment including enhanced sculptural details, a removable chain weapon and lights on the chest and head.
He stands 18 inches tall with articulated neck, shoulders, elbows, hips and knees.
Gipsy is highly mobile and includes intricate paint details to replicate all the battle damage and wear and tear seen on screen.
The 20.3+ cm long chain sword attaches to the forearms and can be wielded on the right or left side.
This is the must-have collectible figure from Pacific Rim!
Gipsy Danger is a Mark-3 American Jaeger.
 It was one of the oldest Jaegers in active combat until its destruction in 2025.
In the original screenplay for Pacific Rim, Gipsy Danger's key signifier and namesake was the image of a pinup decal featuring a "buxom Gipsy riding a bomb". Respectively, its pilots, Raleigh Antrobus and Mako Mori, were referred to as "Roma 1" or "Roma 2", "Roma" being the colloquial term for the Romani people of Europe, the Americas and Asia.
16 other products in the same category: