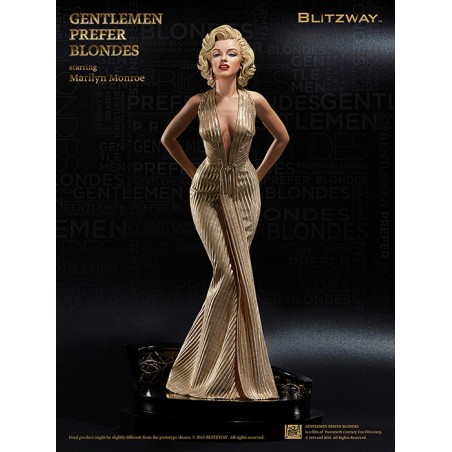  
GENTLEMEN PREFER BLONDES Marilyn Monroe 1/4 BLITZWAY

 Neuf scellé with brown box
GENTLEMEN PREFER BLONDES Marilyn Monroe 1/4 BLITZWAY
As its first Superb Scale Statue(1/4 scale), Blitzway came to produce Marilyn Monroe in Gentlemen Prefer Blondes,1953' which brought her into the pinnacle of stardom at once who was just a no vice actress at the time.
The artist of this project K.A. Kim splendidly expressed the Marilyn's sexiness and cuteness at the same time and focused on
naturally describing Marilyn's alluring eyes looking down as if to tempt a man with her head ge ntly leaning back, her sexy lips, sensual body lines and captivating posture which are all uniquely her own.
Now, you can feel the very sexiness and loveliness of Marilyn Monroe with our product.
– Diorama base is made to emphasize the beautiful curves by re-creating the feeling of the stage of the film 'Gentlemen Prefer Blondes' through creative formative senses.
– Perfectly recreating real Marilyn Monroe in 1/4 scale statue, her body shape and dress exhibit Marilyn's sexy and sensual bodyline.
16 other products in the same category: