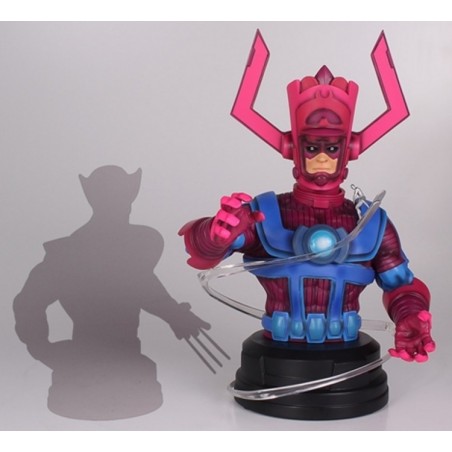  
MARVEL Galactus With Silver Surfer 1/6 GENTLE GIANT
MARVEL Galactus With Silver Surfer 1/6 GENTLE GIANT
Marvel Galactus, the Devourer of Worlds. His name alone makes the whole universe tremble with terror.
The only survivor of an alien race dating back to the dawn of time, he travels the galaxy in search of suitable planets to consume their life force.
A herald always signals his arrival.
They are usually sent in advance to ensure that the future meal will satisfy their master's appetite.
Past heralds include the legendary Silver Surfer, Firelord and Nova. On several occasions, the heroes of the Marvel Universe have been called upon to intervene to prevent Galactus from making Earth his next meal.
Each time, they've managed to fend him off. But how long before he returns? He's hungry.
Gentle Giant is proud to present the Marvel Galactus mini-bust, an SDCC 2013 exclusive!
Digitally sculpted by the master craftsmen of Gentle Giant Ltd, this intimidating bust depicts the fearsome Ravager of Worlds in minute detail, using only the highest quality polyresin. As an added bonus, his most famous herald, the Silver Surfer, is depicted in high quality pewter, orbiting his master! This limited edition mini-bust is hand painted and individually numbered. It comes with a matching certificate of authenticity. Make mine Marvel! Edition size 800 pieces
The Devourer of Worlds Galactus is the most feared and powerful cosmic adversary Earth's heroes have managed to fend off time and time again, and a perfect character choice for Comic Con attendees.
16 other products in the same category: