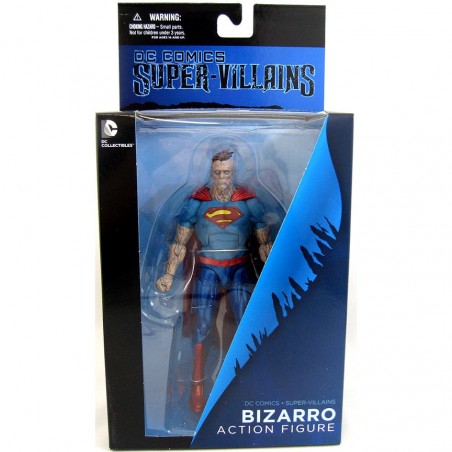  
DC COMICS Super Villains Bizarro DC COLLECTIBLES
DC COMICS Super Villains Bizarro DC COLLECTIBLES
Bizarro is a fictional character, super-villain belonging to the DC Comics universe 
Created by writer Otto Binder and artist George Papp as a failed clone of Superman, he first appeared in Superboy #68
Bizarro made his debut in Superboy #68 (cover date October 1958, but on sale by August). 
Writer Otto Binder imagined the character as a Frankenstein monster with all the powers of Superboy.
 Shunned for his grotesque appearance, Bizarro appeared in his teenage version in only one comic book story. 
An adult version appeared around the same time in the Superman comic strip, written by Alvin Schwartz and beginning in episode 105: "The Battle With Bizarro" (strips 6147-6242: August 25, 1958 to December 13, 1958). According to comics historian Mark Evanier, Schwartz has long claimed that he created the Bizarro concept before the character appeared in Superboy1.
 The newspaper story introduced the character's strange phrasing, and all of Bizarro's comments have an opposite meaning (for example, "bad" means "good"). The newspaper version had a "B" on his chest, as opposed to his distinctive "S".
Data sheet
Scale

Scale 1/12 -- 6" inch (up to 18cm)

Product Type

Action Figure

Matter

PVC
3 other products in the same category: