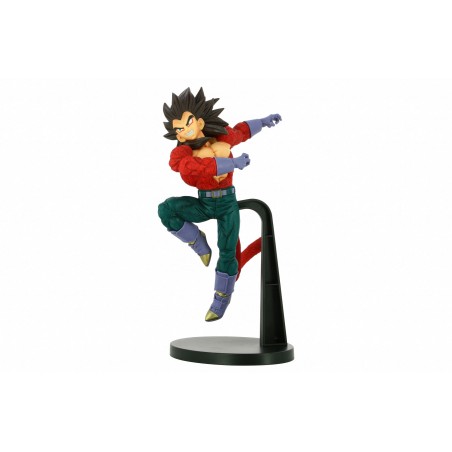  
DRAGON BALL Vegeta Super Saiyan 4 BANPRESTO

  Neuf scellé with its box
DRAGON BALL Vegeta Super Saiyan 4 BANPRESTO 
Main character of the Dragon Ball Z manga, Vegeta is the prince of the Saiyans ( Super Saiyan is a fictional physical state created by Akira Toriyama in the manga Dragon Ball) , or at least he would be if his planet had not been destroyed.
He conquers planets on behalf of the powerful Freezer but is actually looking for a way to outdo this monster.
Incredibly proud, Vegeta hardly takes his defeat against Sangoku and from that day on, enters into a constant rivalry with him.
Despite his cruelty, he lets himself be "corrupted" by the goodness of the heroes and even founds a family on Earth.
But he remains ready to do anything to acquire the power that will allow him to surpass his rival and become the number 1 of the universe.
Vegeta GT version in SSJ4 comes back to Banpresto this time in the Choujin Giga range.
He will perfectly accompany Goku and Gogeta also available in this range, allowing to create a trio of SSJ4 Saiyans ultra dynamic.
Measures about 15cm.
7 other products in the same category: