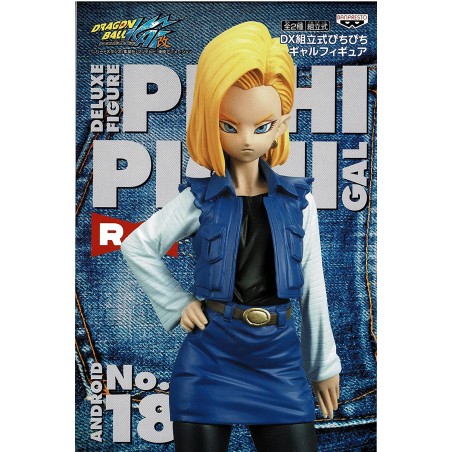  
DRAGON BALL Android 18 Pichi Pichi GAL DELUXE DX BANPRESTO

  Neuf scellé with its box
DRAGON BALL Android N°18 Pichi Pichi GAL DELUXE DX BANPRESTO
Banpresto's "Pichi Pichi Gal Deluxe Figure" series has included a few of the enigmatic and beautiful yet deadly females of the Dragon Ball series.
As a Dragon Ball Kai series release, this volume was released in July 2009 and has included Bulma and Android 18 in the assortment.
Android 18 is seen with a serious expression as she maintains one hand to her side and the other dangles beside her, one leg bent to the side. The sculpt is very precise, incorporating her hair toppling to one side and placing impression on her bright eyes. The piece comes with a black base to stand on.
Even the detail on her clothing is exquisite. As a Dragon Ball Kai collectible overall, this is likely the most detailed Android 18 piece that features her in a basic stance.
The packaging is a very unique one as well, having a blue texture for the back and a close up of her jeans and clothing for the front packaging background shot.
7 other products in the same category: