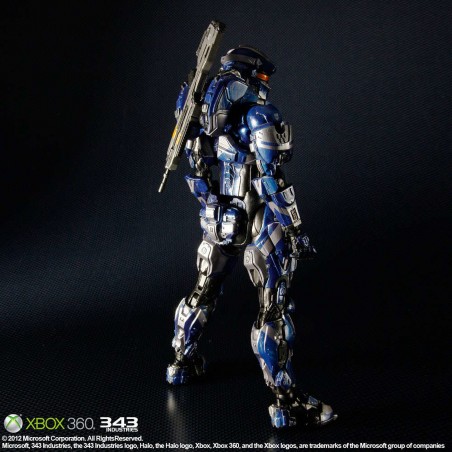  
PLAY ARTS KAI Halo 4 1/10 SPARTAN WARRIOR
Holo  SPARTAN WARRIOR
Category : Video Games
Licence : Halo 4
Fabricant : Play arts kai
Halo 4 is the eighth video game in the Halo6 series. The game was announced for release on November 6, 2012 at the Microsoft press conference at E3 2011. During the conference, it was announced that Halo 4 would be the first installment of a new Halo trilogy called The Reclaimer Trilogy
The game opens with a prologue where Catherine Halsey is interrogated by a mysterious individual in an unknown location.
She explains the origins of the Spartans as well as those of Major John-117.
The mysterious interrogator explains to Halsey that he doubts that the Spartan in question is still alive after the events of Halo.
Halsey replies that the Spartans are not military hardware but the evolution of humanity, its future as a species; she also warns him not to underestimate John-117.
Indeed, half of the Forward Unto Dawn is still roaming the galaxy, with Cortana and John-117 on board, still alive in a cryogenic tube. 4 years, 7 months and 10 days have passed since the destruction of the Ark. The ship is then scanned by an unknown force. Cortana, frightened, decides to wake up the Major. Once out of his tube, the Major recovers Cortana and hurries to see what is happening. The ship is attacked by a fleet of Jul 'Mdama's Covenant separatists, a new faction resulting from the collapse of the old Alliance, in orbit around an artificial planet with the characteristics of a Forerunner structure. After a long battle between the Major and enemy forces, the Forward Unto Dawn is drawn to the planet and eventually enters it along with several Covenant ships that eventually crash.
Add this Spartan Warrior figure from the Halo 4 game to your collection! This detailed action figure is adjustable for limbs and head. Accessories are also included: a magnum, a machine gun and extra hands. This Spartan Warrior will be able to assume a variety of menacing poses.
Main features:
Articulated figure of a Spartan Warrior from Halo 4
Dimensions : 9,8 x 5,6 x 22,7 cm
Material : PVC
Removable accessories: magnum, machine gun and extra hands
Data sheet
Scale

Scale 1/10 - 10" inch (up to 22cm)

Product Type

Action Figure

Matter

PVC
2 other products in the same category: