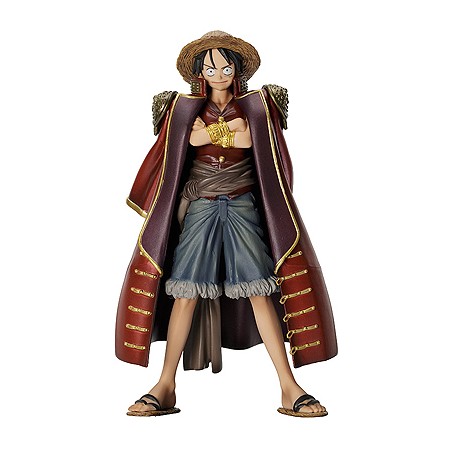  
ONE PIECE Luffy THE GRANDLINE MEN BANPRESTO Red Coat ver. Vol. 3

 Neuf scellé with a box
ONE PIECE Luffy THE GRANDLINE MEN BANPRESTO Red Coat ver. Vol. 3
ONE PIECE Luffy THE GRANDLINE MEN BANPRESTO Red Coat ver. Vol. 3
"I am the man who will become the king of the pirates!!!"
The captain's majestic personality, leading the crew, has an overwhelming presence!
One Piece is a Japanese manga that follows the adventures of Monkey Luffy, a 17-year-old boy, who gains supernatural abilities after eating a magical fruit.
Luffy leads a ragtag crew of young pirates, named the Straw Hats. On their ship the 'Going Merry', they roam across the open sea known as the Grand Line.
Here we have a One Piece Grandline Men Luffy with Coat 5.75 inch figure.
Monkey Luffy is a pirate and the main protagonist of One Piece.
His long life goal is to become the Pirate King by finding the legendary treasure left behind by the Pirate King, Gol D. Roger.
Monkey Luffy is one of the ""Eleven Supernovas"" - pirates with bounties over 100,000,000. This figure depicts Luffy standing proud and fearless, with his arms crossed over his chest.
An expensive oversized coat is drapped over his shoulders. This is Luffy the Captain! Nicely sculpted, but paintjob is only average.
May sport minor scuff marks. Comes with a circular black base.
Budget packaging: figure is sealed in a plastic bag, which sits loosely inside a windowless pegbox. Imported from Hong Kong. Size: 5.75 inch. Made by Banpresto in 2010.